Learn how to deploy the AWS IoT integration for The Things Stack.
Prerequisites
Access to an AWS account. Create a new account
An application in The Things Stack. See instructions
Create API Key
Go to your application in The Things Stack Console, go to API keys and click + Add API key.
Enter a name, like AWS IoT integration, and grant at least the following individual rights:
View devices in application
View device keys in application
Create devices in application
Edit device keys in application
Edit basic application settings
View and edit application packages and associations
Write downlink application traffic
Read application traffic (uplink and downlink)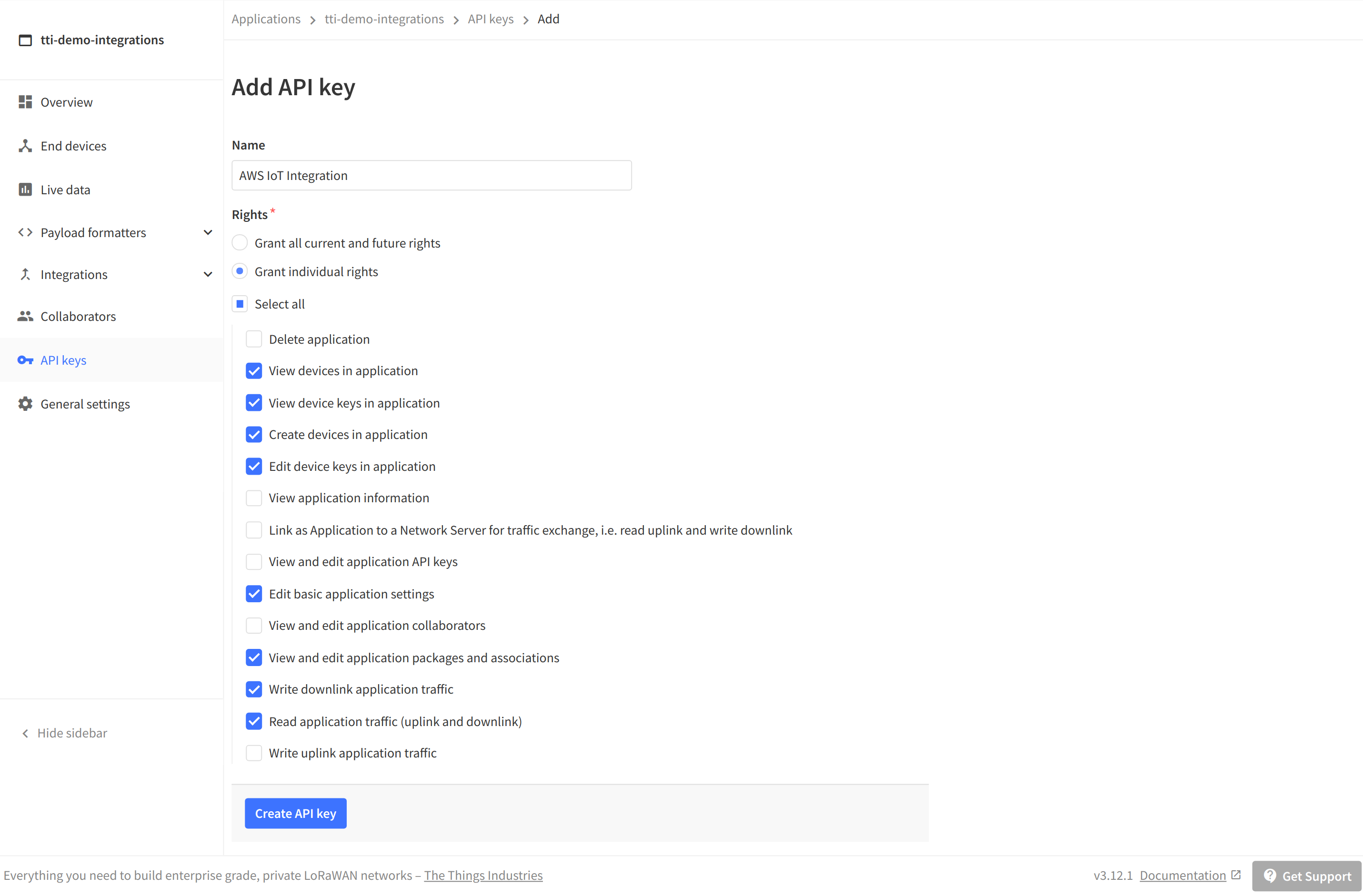 Click Create API key, copy the key and store it in a safe place. You need the API key in the next section.
Deploy AWS CloudFormation Template
Warning:
Make sure to select the template related to your deployment only.
Settings
The Stack name is the unique name identifying the integration in your AWS account.
The parameters configure the integration:
Principal Account ID : AWS Account ID that The Things Stack authenticates with.
Thing Type Name: The unique AWS IoT Core thing type name for this integration.
Thing Name Scheme: The name that is given to AWS IoT things when they are created by the integration.

When using DevEUI, the name will appear as the numeric DevEUI, i.e 1122334455667788.
When using DeviceID, the thing name will be a combination of the CloudFormation stack name and the device ID as registered in The Things Stack, i.e. <stackName>_<DeviceID>.

Thing Shadow Metrics: Enable or disable updating the thing shadow with metrics.
Cluster Address: The cluster address of your The Things Stack deployment.

When using The Things Stack Cloud, go to The Things Stack Cloud Addresses to find your cluster address
When using The Things Stack Enterprise, enter your cluster address
When using The Things Network, select the community cluster from the dropdown

Application ID: The application ID for which you configure the integration.
Application API Key: The application API key that you generated before.
Note:
If you use The Things Network Stack V2 integration for AWS IoT, you must change the Thing Type Name to something other than lorawan to avoid conflicts.
Check I acknowledge that AWS CloudFormation might create IAM resources.
Click Create stack.
Note:
Creating all resources can take up to five minutes. ☕

When the deployment is done, you'll see the status CREATE_COMPLETE.
Congratulations! 🎉 You have now set up the AWS IoT integration for The Things Stack!