Cloud Studio is an IoT software company that developed an IoT platform which enables monitoring, control and automation of facilities. This platform is code-less and highly customizable, allowing enterprise and government entities to easily manage it in their unique way.
Under Cloud Studio, you can find three IoT application sub-platforms: Gear Studio, Beam Studio and Bespoke Projects. For integrating The Things Stack with Cloud Studio, we use Gear Studio.
Read more in the official Gear Studio wiki documentation site.
Prerequisites
Setup Gear Studio
When you log in to the Gear Studio, you are presented with the dashboard in the Monitoring mode.
To add a new device, you first need to switch to the Settings mode by clicking on the nut icon in the upper left, as shown on the image below.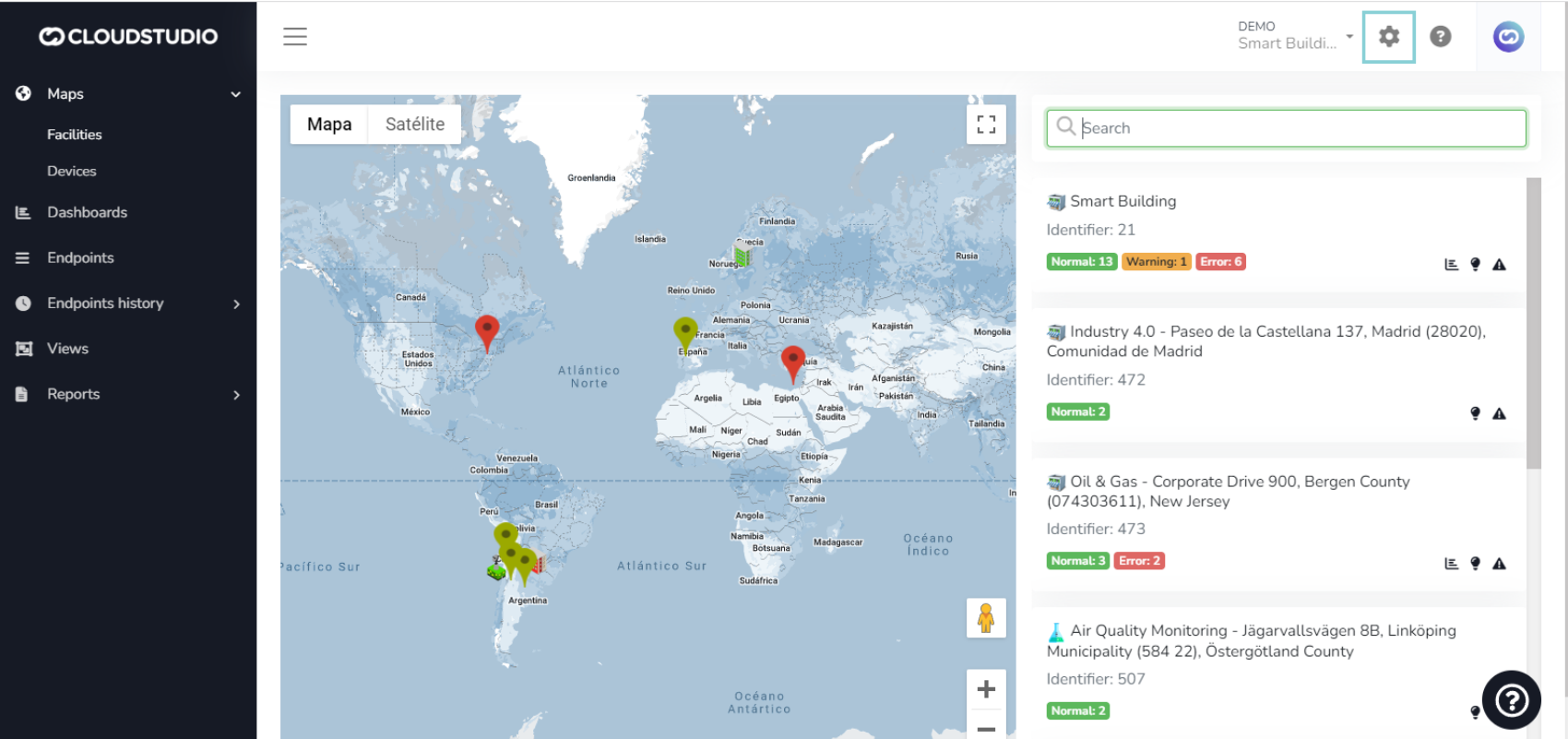 When you are in the Settings mode, navigate to Devices → Devices on the left hand menu and select the Add button.
Next, you need to enter a Description, and provide the Model and the DevEUI of your end device.
Note:
At the time of writing this guide, a user can complete the integration only if using a device model that is available in the Model drop-down list.
A scripting engine that will allow the integration to be completed using any end device is expected to be available on Gear Studio soon!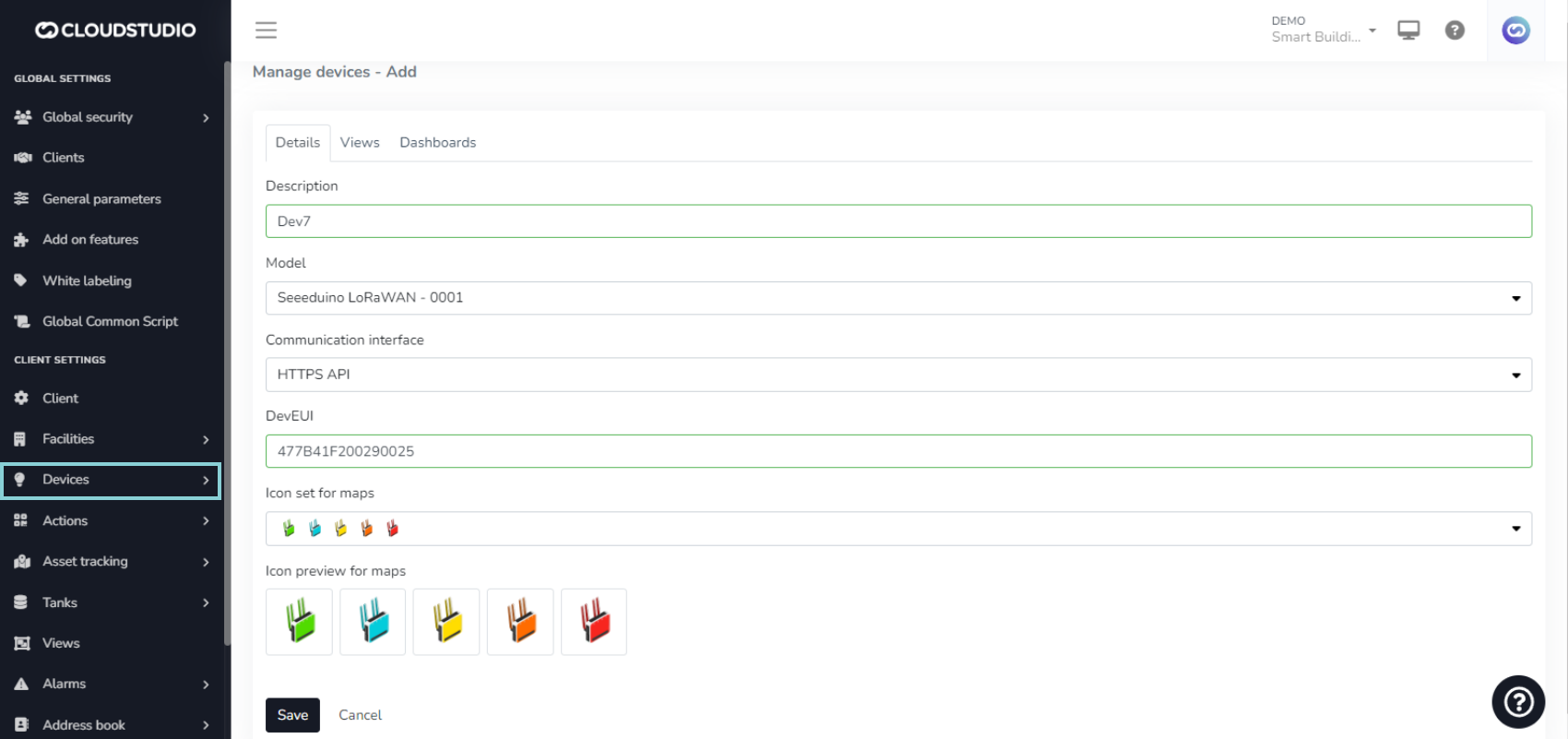 To complete the integration on The Things Stack, in the next step you will need an access token. You can create an access token by navigating to Security → Access tokens and clicking on the Add button.
Provide a Description for your token, enter your E-mail and set your Password. Finish with Save, copy the token and store it in a safe place.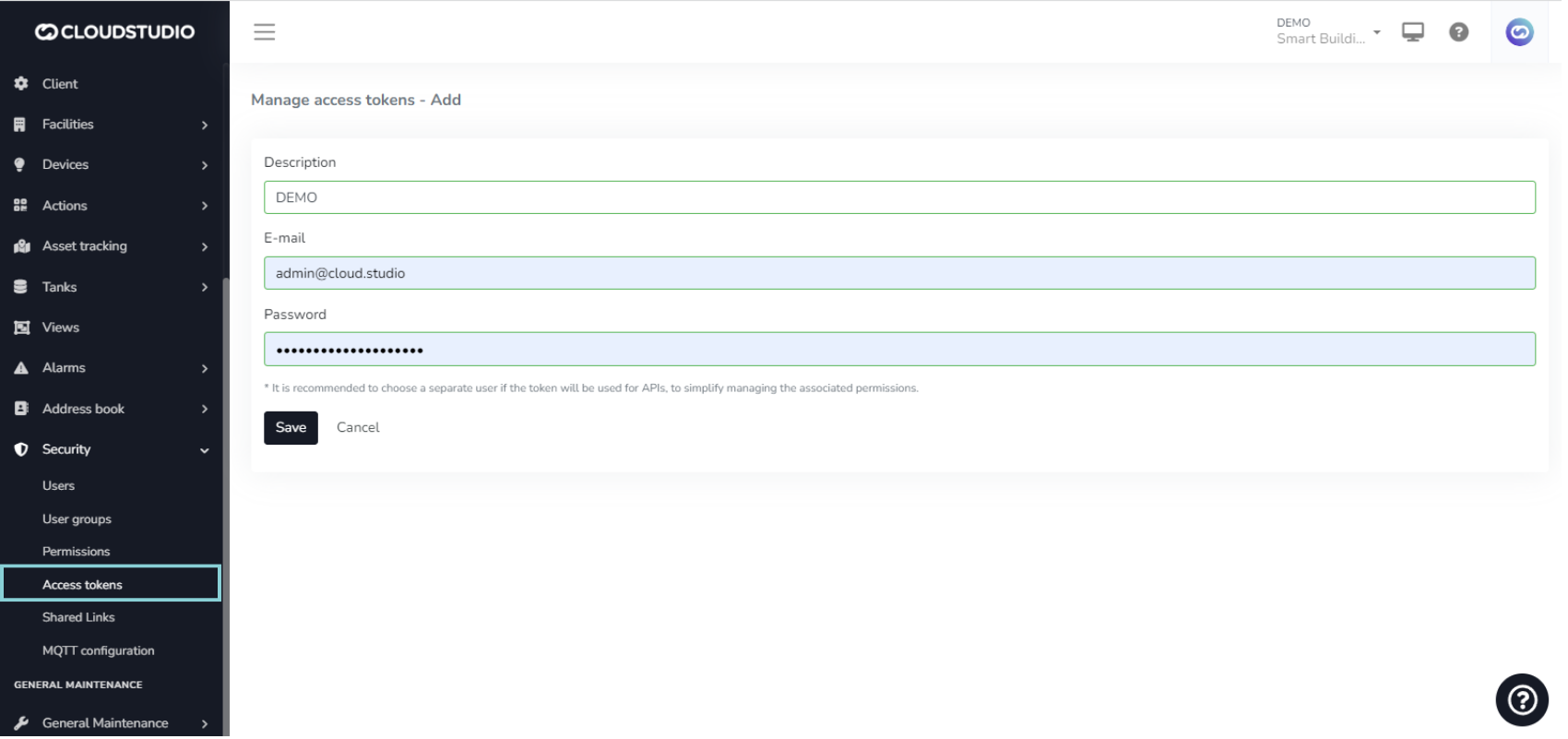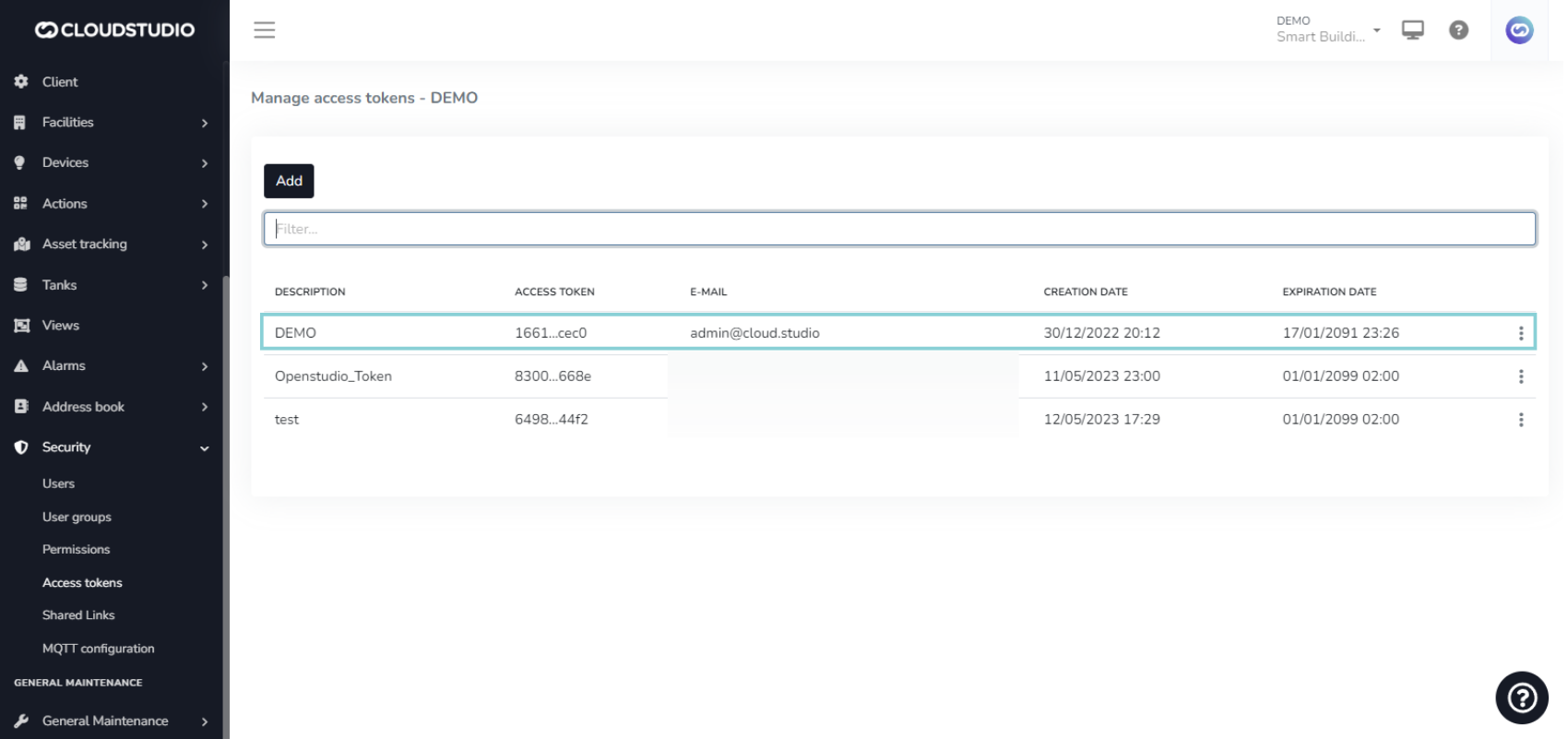 Configure The Things Stack
After finishing Gear Studio setup, use the Cloud Studio Webhook template to create a Webhook integration on The Things Stack.
First, fill in the Webhook ID.
Then you need to provide a Gear Studio Server instance that is hosting your Gear Studio IoT platform. This depends on your Gear Studio subscription. The default value is gear.cloud.studio that is commonly used for free subscriptions.
See this page for detailed information on other server instances.
As the last step, paste the access token you copied from Gear Studio in the Access token field.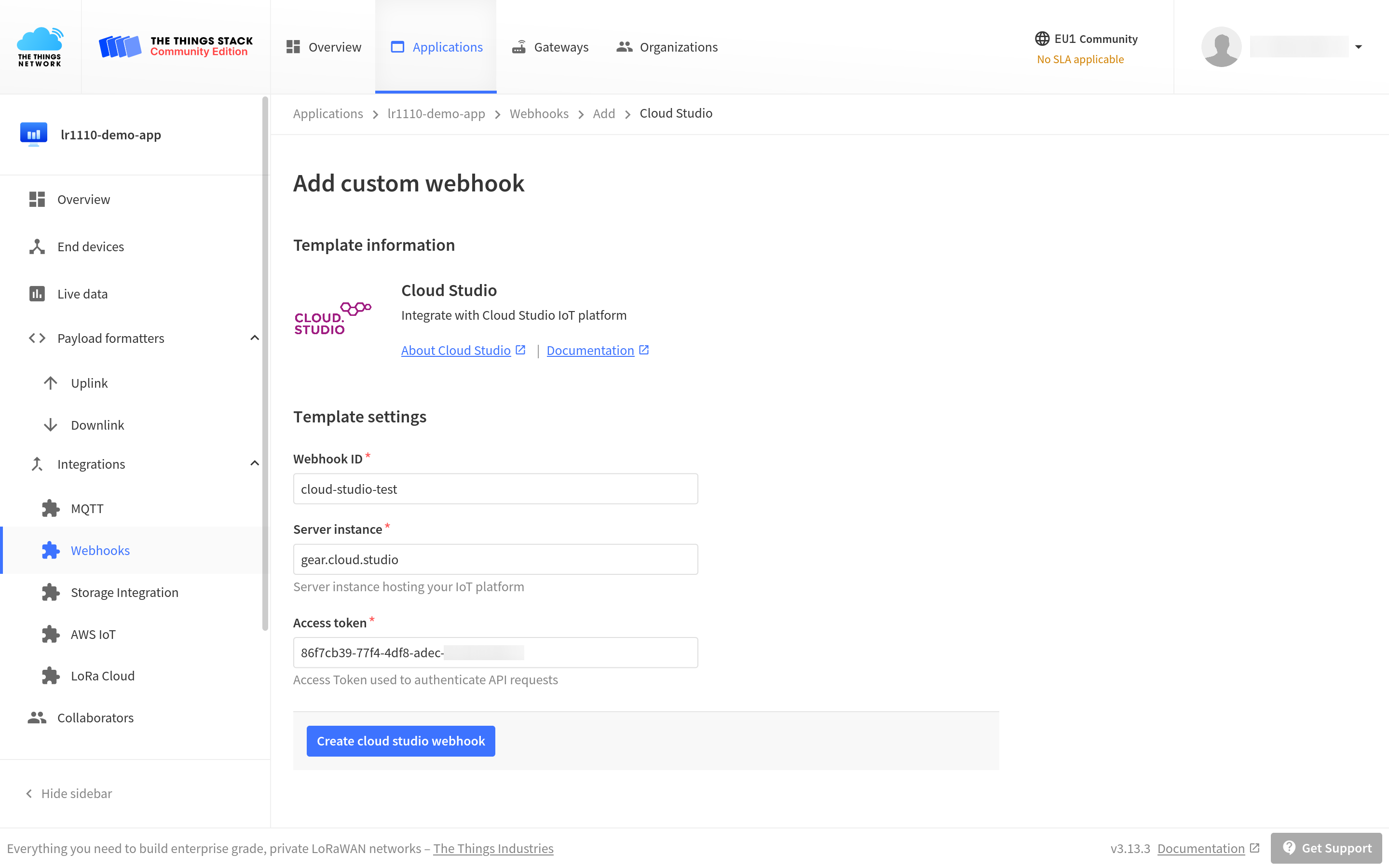 Note:
To see the values of all parameters of the Cloud Studio integration, click on the integration after you created it with the Webhook template.

Now, go back to the Monitoring mode of your Gear Studio dashboard, navigate to Devices on the left hand menu and start monitoring your sensor data!