Deutsche Bahn
Enabling LoRaWAN across the entire "Bahn"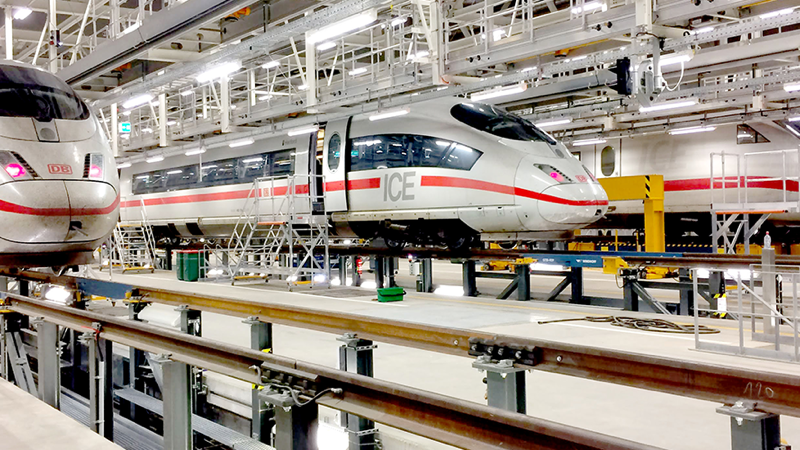 Customer challenge
German Rail (Deutsche Bahn, DB) is one of the world's largest rail operator and transportation companies, with over 300.000 employees and pan-European operations. DB is implementing various LoRaWAN use cases across departments, concerning ICEs (high speed trains), stations, maintenance depots and office buildings. Use cases range from synchronising station clocks and passenger counting to monitoring of spare parts inventory, carriage condition, building utilisation and electricity usage.
The challenge is to have a LoRaWAN network server stack embedded in DB's private cloud, while complying with its strict internal security policies. And to integrate our software with existing systems and IoT infrastructure for seamless operations.
Solution
DB selected The Things Industries to offer a customised template that allows for a self hosted network server. One that can be securely configured, updated and scaled with AWS Elastic Container Service. We integrated our APIs with DB's IoT platform, routing LoRaWAN telemetry data to and from its applications, invoking functions on that data, and updating the IoT device registry. This allows DB to interface solely with its own, existing systems, while leveraging the full functionality of our network server.
For this successful implementation, DB relies on our deep understanding of the LoRaWAN protocol, security, scalability and devops.
Solution benefits:
Optimised space utilization of office buildings
Accurate station clock synchronisation
Understanding passenger flows and environmental metrics in railway stations
Knowing exact stock levels in ICE maintenance depots
Why DB chose TTI:
Deep LoRaWAN expertise
Plug 'n play stack for AWS IoT Core, AWS private cloud and Single Sign On
Self hosted, on-premises deployment
Secure device provisioning with LoRa Alliance interoperable join server
Class B and C support. Firmware-over-the-air update service
No vendor lock-in
The Things Industries services are designed to interact seamlessly with the protocols and systems you already support. Start benefiting from The Things Stack features now: Discover The Things Stack
"Bring your IoT solution to life with our LoRaWAN based devices and gatewaysAll the hardware can be used with The Things Enterprise Stack. Bring your IoT solution to life with our LoRaWAN based devices and gateways All the hardware can be used with The Things Enterprise Stack".

- Someone, Developer at Wilhelmsen
More use cases