Lacuna Space and The Things Industries partner to provide free access to direct-to-satellite LoRa® connectivity for developers around the world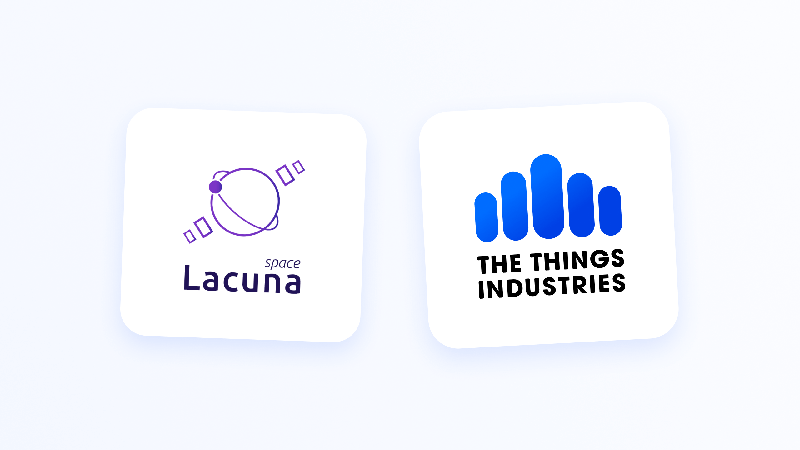 Lacuna Space, the leading network operator for direct-to-satellite LoRa® connectivity, and The Things Industries, a LoRaWAN solutions provider, have partnered up to provide The Things Industries' global LoRaWAN developer ecosystem with the ability to evaluate satellite connectivity with free access.
"This is a pivotal next step in hardening and maturing LoRaWAN technology and working with systems integrators and developers to become the most open and easy to integrate LoRa satellite constellation in the world," said Jon Pearce, CCO at Lacuna Space
The Lacuna Network is architected to work in harmony with the Packet Broker concept from The Things Industries, allowing users to seamlessly merge regional terrestrial coverage with extended satellite coverage in the most remote areas. Ubiquitous connectivity is a game changer for logistics, agriculture, industrial and maritime markets.
Lacuna's regular business model is to wholesale data packets in bulk bundles to solutions providers and network operators. Under this partnership, an evaluation connectivity service will be provided for free with a simple fair-use policy. Users start with the Lacuna LS300 Sensor & Relay as the initial evaluation device, which will be open-sourced to allow developers to adopt the satellite antenna in their own LoRaWAN device designs.
The Things Industries is a LoRaWAN solutions provider with an ecosystem of over 170K developers. It provides software to manage LoRaWAN devices, networks and applications with a developer-first approach, and is valued for its easy and low cost integration product designs. Together with Lacuna Space, The Things Industries gives a unique opportunity to its developer ecosystem to test Lacuna Space's connectivity solutions without any service cost.
"It is undeniable that earth-to-space communication is going to be one of the means that things will be connected. We are super proud that Lacuna Space will offer free evaluation access to all developers around the world to their constellation," said Wienke Giezeman, CEO at The Things Industries
About Lacuna Space Lacuna Space, a UK and Dutch entity, headquartered in Oxford UK, is recognized as the leader in scalable direct-to-satellite IoT solutions based on the open and interoperable LoRaWAN® standard. The Lacuna Network enables multiple constellations of Lacuna and third-party satellites to meld together, forming the most robust and field-proven IoT service for our customers. Operating a wholesale model, Lacuna empowers service providers and systems integrators to extend the limited coverage footprint of LoRaWAN® networks around the globe with ubiquitous low-power, low-cost connectivity.