4 things that will help you avoid extra costs in your IoT deployment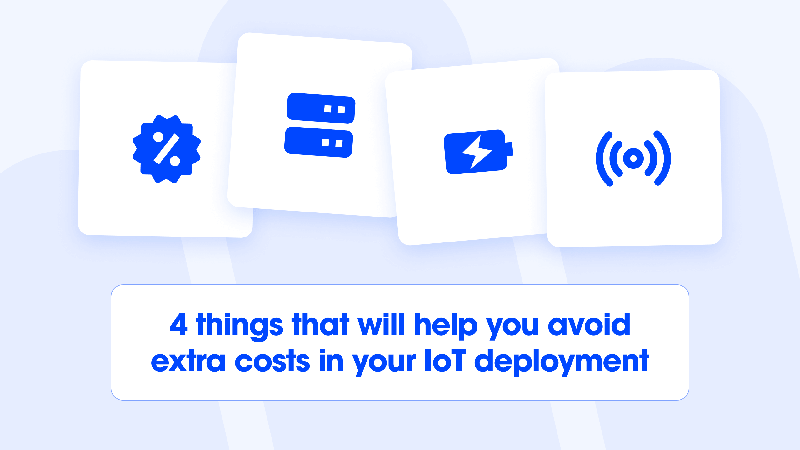 Implementing LoRaWAN® for your use case involves several decisions around deployment components, starting from device choice to how to manage your data. Missing out on some decision aspects can result in a more costly maintenance or deployment expansion as you scale. Read along to learn how to manage costs when scaling with your LoRaWAN deployment.
Here are the four things you should consider in order to avoid unnecessary costs for your deployment:
Budget: The amount of money that you are going to spend on devices and gateways. Such costs are negotiable with distributors and are fixed. There are thousands of devices and gateways with a variety of features for your needs at different pricing. Take a look at the Device Repository for LoRaWAN, where you can find certified devices around different categories.

Network Server: A Network Server is a crucial part of your deployment, as this is where you will be able to see and manage your data. Therefore, choose the most suitable LoRaWAN Network Server deployment for your needs and budget. For example, The Things Stack Cloud has flexible pricing based on the number of devices registered with no setup fees. You can predict the evolution of your projects and device capacity, making such costs easy to estimate.

Batteries: Once your LoRaWAN projects start to be operational, they will require battery replacement. Most batteries have a lifetime of 1 up to 2 years. Battery or device replacement can be costly as it requires human involvement for monitoring and execution. Having a margin of safety for such events will help you to handle these costs with less hassle.

Gateway signal: Setting up a gateway to get good coverage may take several attempts, especially in urban areas. The gateway signal goes over the radio, which is a shared medium. If an area starts to be polluted with more obstacles, the signal can become worse, and a gateway needs to be moved or another gateway should be added. When deploying at scale, it is important to take into account that adding more gateways will be necessary to support more devices or larger areas.
When starting to build your LoRaWAN infrastructure, there are several aspects to consider in order to run your operations smoothly and with less cost. Here are some tips to save on your deployment costs and increase the efficiency of your LoRaWAN devices and gateways:
Coverage is key.
Better coverage allows you to save on device battery usage. It is advisable to invest in gateways at the beginning, in order to avoid regular operational costs in the future. Your Network Server's Adaptive Data Rate feature adapts the battery usage by device based on the gateway signal strength. The Things Stack, an end-to-end secured LoRaWAN Network Server, has a price per register device deployment, allowing you to install as many gateways as you need at any development stage.
Service-level agreement.
Choosing a Network Server with a Service-level agreement (SLA) gives you a guarantee for 1) the amount of uptime involved, 2) the speed of traffic processing. It also allows you to build your own SLA. The SLA, however, obliges you to comply with the following requirements:
Prevent time-synchronized behavior. End devices must send messages at randomized times in order to avoid collisions that may result in lost messages. Resending messages requires energy, therefore this can result in a more frequent battery replacement.
Join behavior. Rejoining networks at periodic intervals synchronizes devices and leads to time-synchronized behavior. The advised solution for it is setting up an exponential backoff (every join failure extends the duration of rejoining wait time).
Get a more detailed overview of how to avoid costs as you scale together with Adrian, The Things Stack Engineer and Felix, Business Developer at The Things Industries. Watch the video:
https://youtu.be/LTYkQgZxaGg
Fast-track your LoRaWAN project and get professional support in setting up your deployment. Get Support
Try out the LoRaWAN Network Server with global support, The Things Stack, and see what deployment suits you most. Discover The Things Stack