What is a LoRaWAN Network Server?
Discover the components, features and different deployment models
The LoRaWAN Network Server is at the core of every LoRaWAN Network that enables connectivity, management, and monitoring of devices, gateways and end-user applications. Its main objectives are to ensure the security, scalability and reliability of data routing throughout the network. Discover today the components, features and different deployment models of a LoRaWAN network server.
The Things Industries (TTI) LoRaWAN Network Server, called The Things Stack, is made up of several components designed to cater to the needs of demanding LoRaWAN deployments, maximize scalability and allow high-degree customization.
LoRaWAN Network Server architecture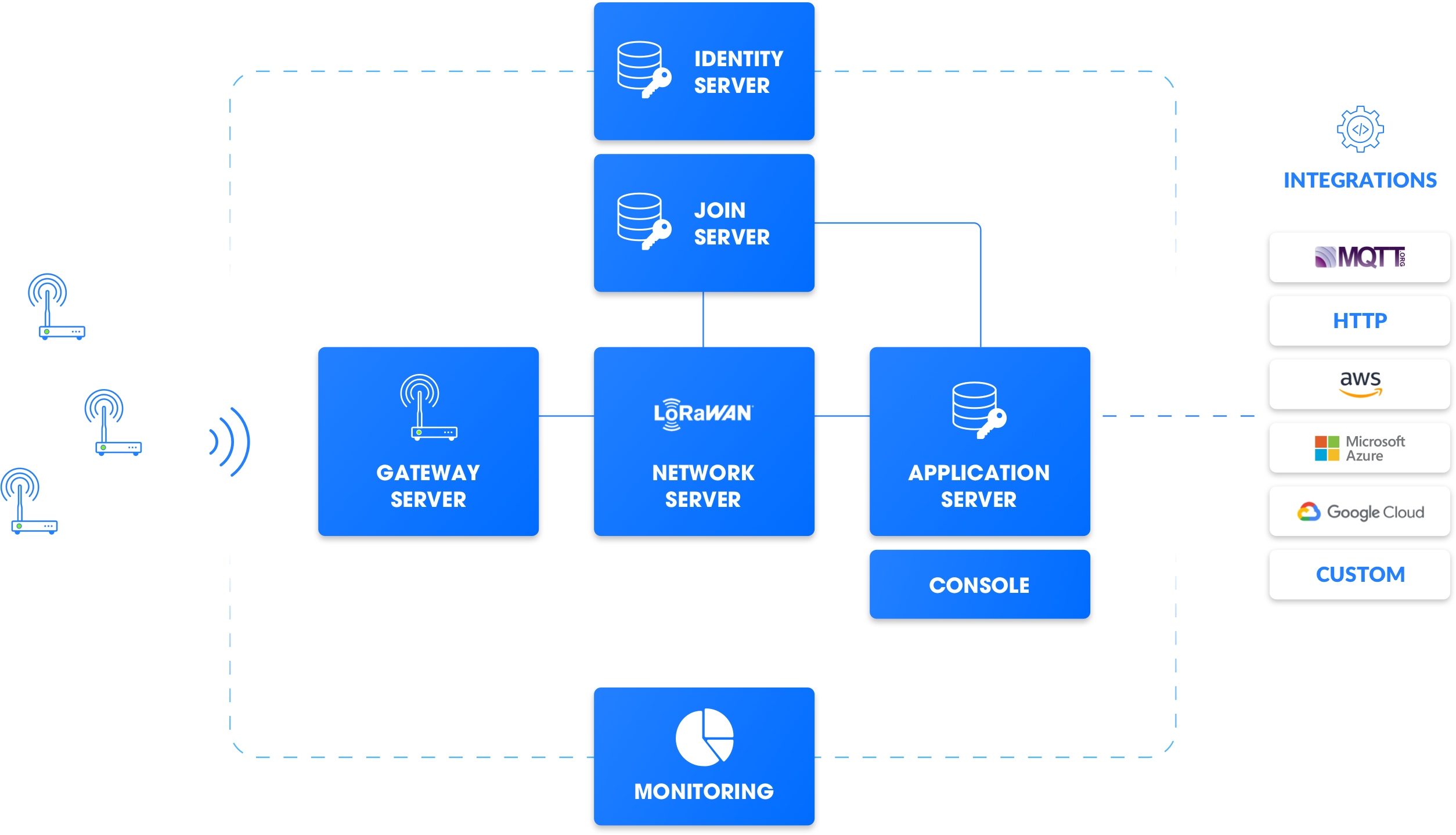 The Things Stack supports all versions of the LoRaWAN specifications as well as all the official frequency plans and device classes A/B/C.
The core components:
The Gateway Server manages secure gateway connections and configurations. It supports both the legacy UDP forwarder and the new LoRa Basics™ Station protocol which enables remote updates and configuration.
The Network Server implements the LoRaWAN protocol, validates the authenticity and integrity of devices, deduplicates uplinks, selects the gateways used for downlinks and sends ADR commands to optimize the data rate of devices.
The Application Server is responsible for decrypting the data received from the sensors and encrypting the data sent to the end devices. The data can be integrated into existing data management systems or IoT platforms such as AWS, Azure and Google Cloud.
The Join Server stores device root keys and generates session keys to enable secure transmission of LoRaWAN messages. Our interoperable Global Join Server integrates with our LoRaWAN networks as well as with third-party ones.
The Identity Server registers users, applications, devices and gateways. This allows for running a scalable, multi-tenant network, distributed over multiple regions around the world.
The LoRaWAN Network Server is also connected to the Packet Broker, a global agnostic LoRaWAN traffic exchange platform to increase network capacity.
All functionalities are exposed by APIs so that the LoRaWAN stack can be integrated into companies' billing, network operation, device management and organization systems.
LoRaWAN Network Server deployment models
The Things Industries offers different deployment scenarios to meet the requirements of each company. A LoRaWAN Network Server as a hosted solution, managed by The Things Industries, comes with full support to get started seamlessly. It is also possible to install, operate and manage the network on-premises or in the company's private cloud, for example using our AWS Marketplace Launcher.
With advanced features, professional support and interoperability throughout the LoRaWAN chain, The Things Industries' goal is to break down the complexity of LoRaWAN networks, allowing companies to save resources and time-to-market so they can focus on their core business.
Request a one-month free trial of The Things Stack