The Things Industries partners with Daizy to provide better device lifecycle management
The Things Industries, a global LoRaWAN® Network Server provider, partners with Daizy, an IoT management platform, with the aim of simplifying LoRaWAN deployments and reducing time spent installing, configuring and managing devices. With this integration, customers can leverage the LoRaWAN network server from The Things Industries and use Daizy to design and manage installations, capture normalised IoT data and maintain visibility on the status of deployed devices.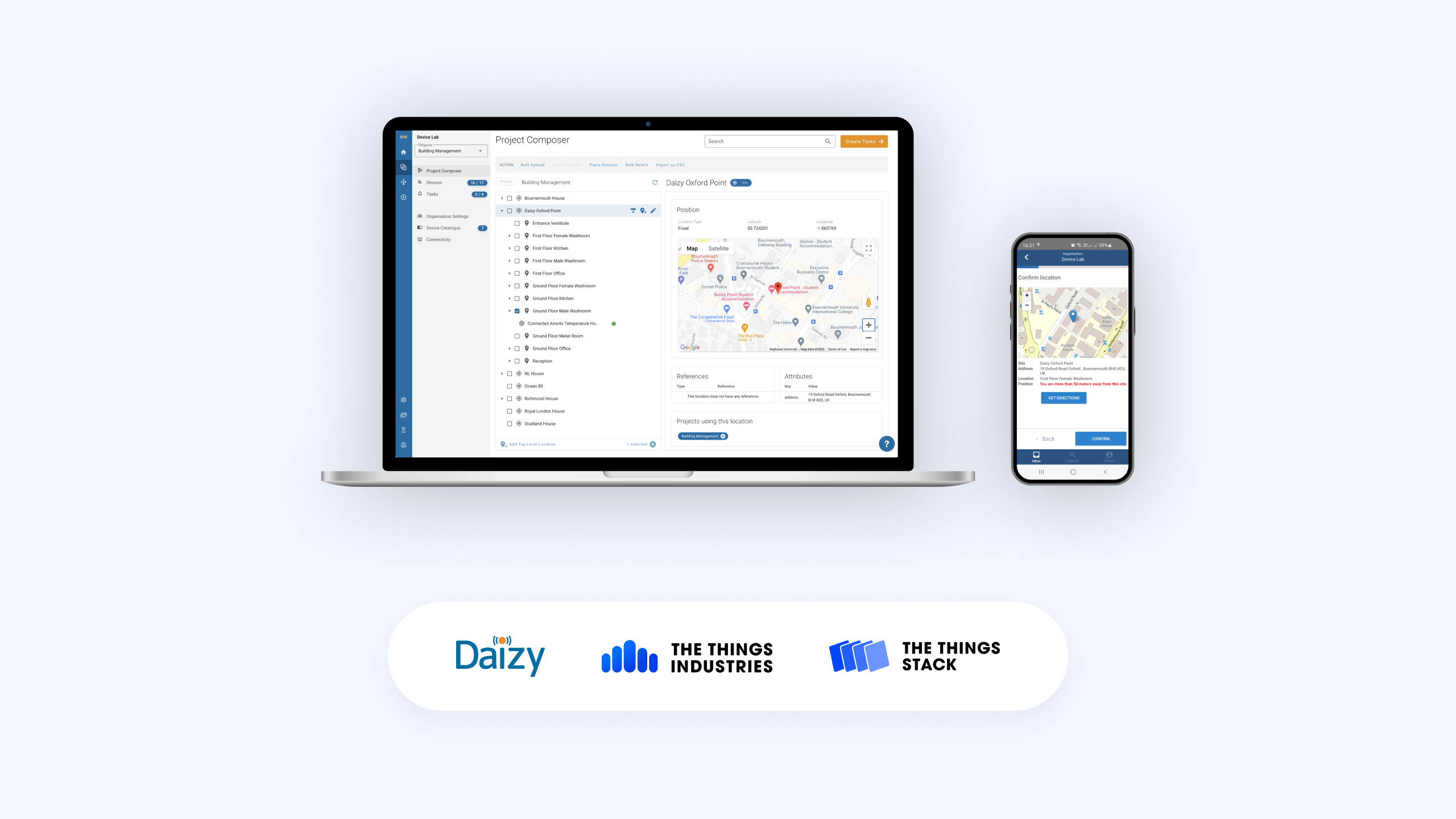 3 key benefits of this integration:
Built for scale: with out-of-the-box support for hundreds of devices (new devices regularly added), no-code deployment, task management and mobile apps, Daizy streamlines the process of implementing and scaling IoT projects.
Efficient device lifecycle management: in-built tools for device pre-provisioning, centralised device stock management, and configuration management for LoRaWAN devices.
Automated in-life monitoring: track device status data such as battery level or location, and create alerts based on pre-defined parameters. Create a digital twin of every device and easily integrate data into IoT applications.
"We are extremely happy to announce our collaboration with Daizy, the combined offering is highly beneficial to our customer base, improving efficiency for device installation and managing the lifecycle throughout the project. What was viewed once as a challenge has now become simpler and more cost-effective," Wienke Giezeman, CEO, The Things Industries
"We're excited to be partnering with The Things Industries to deliver seamless connectivity, device management and IoT data interface for customers, solution providers and LoRaWAN partners. The combination of The Things Stack and Daizy's IoT management platform will streamline the planning, deployment, management and scaling of IoT projects, while reducing the cost and complexity of onboarding new devices and applications," David Ffoulkes-Jones, CEO, Daizy.
How to get started:
Learn how to set up Daizy in The Things Stack by reading the documentation. Learn more