The Things Industries expands LoRaWAN® network capacity by supporting LR-FHSS data rates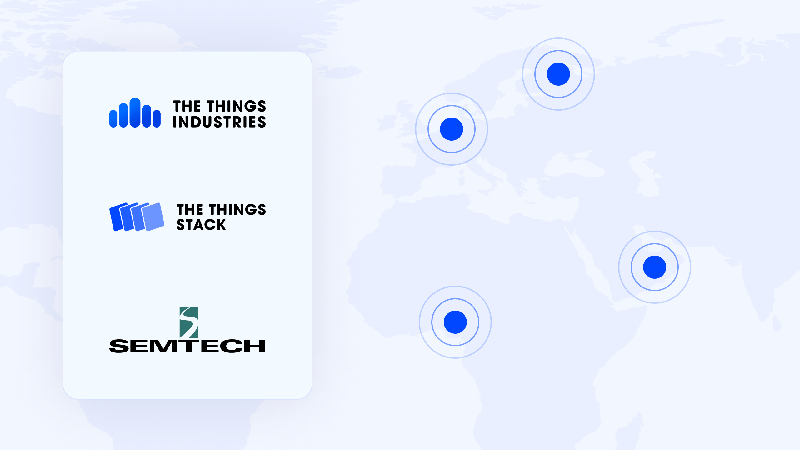 With The Things Stack v3.14 release, The Things Industries introduced data rates support for Semtech's Long Range-Frequency Hopping Spread Spectrum (LR-FHSS) technology.
LR-FHSS modulation significantly increases network capacity and has interference resistance while maintaining low power consumption and the same radio link budget as Semtech's LoRa® technology. Since LR-FHSS is uplink only, end nodes support packet modulation while gateways support packet demodulation. LR-FHSS is supported on end nodes built on Semtech's SX1261, SX1262, and LR1110 and LR1120 transceivers. Any V2 gateway based on Semtech's SX1301 baseband chip can be used to deploy LR-FHSS-enabled LoRaWAN® networks.
LR-FHSS-enabled LoRaWAN networks can be deployed in EU868, US915, and AU915 regions on either ISM unlicensed bands as well as 1.9-2.1GHz (S-Band). Currently, LR-FHSS provides two bit rates, 162 bits/s, and 325 bits/s. Read the RP2-1.0.3 LoRaWAN Regional Parameters document published by the LoRa Alliance® to learn more about LR-FHSS and its data rates.
The following benefits of using LR-FHSS-enabled LoRaWAN network operators to generate a good return on investment include:
Enabling satellite IoT: LR-FHSS expands LoRaWAN coverage by bridging terrestrial networks with satellites to offer low power connectivity throughout the world and filling connectivity gaps for areas where cellular or Wi-Fi signals are not available.
Enhanced deep indoor capacity: By using the same network infrastructure, LR-FHSS significantly enhances capacity for deep indoor dense deployments by connecting end devices (especially utility meters) placed in multi-floor buildings and basements.
Supports any regional dwell time limitations: With LoRa, end devices must follow the dwell time limitations in some countries, for example, in North America, the dwell time limitation is 400 milliseconds and the minimum allowed data rate that the end devices can use is SF10 which carries a maximum of 11 bytes of payload. LR-FHSS resolves dwell time limitations by using either 325 bit/s with a payload of 125 bytes or 162 bit/s with a payload of 50 bytes that cover the equivalent of the SF10, SF11, and SF12 data rates.
Enabling more transmission power: LR-FHSS enables up to 1W transmit power for the end devices in the USA because of its frequency hopping characteristics and the availability of more than 50 channels.
Maximizes capacity for licensed spectrum owners: LR-FHSS allows network operators that own at least 150 kHz of licensed spectrum to build a high quality of service LoRaWAN network with more capacity.
Maximized capacity for spectrum constrained regions: LR-FHSS provides additional capacity for LoRaWAN networks operating in some regions/countries (India) where many LoRaWAN channels cannot be allocated and using low data rates.
"We are happy to be the first to support Semtech's LR-FHSS technology as a globally-managed LoRaWAN network management infrastructure company. This modulation massively increases the total market for LoRaWAN applications," - Wienke Giezeman, CEO of The Things Industries
Start scaling your deployments with The Things Stack today. Discover The Things Stack before subscribing
LoRa is registered trademark or service mark of Semtech Corporation or its affiliates.