Measuring the impact of heat and smoke on farmers using LoRaWAN
The Things Stack Cloud in action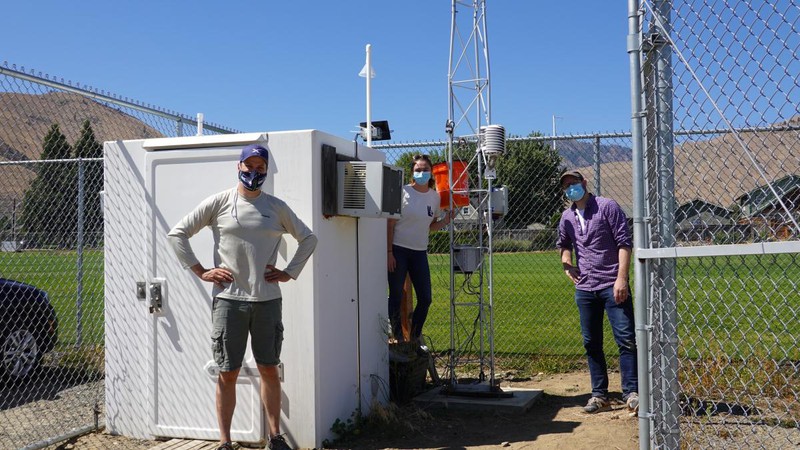 Scott Waller of Thingy IOT; DEOHS doctoral student Claire Schollaert; and Eddie Kasner, PNASH outreach director, set up air monitoring equipment at a weather station in Wenatchee
In the state of Washington, over 140,000 farmworkers are currently working in the fields at the height of the harvest season. This is also the time when forest fire burns across the state, prompting the government to declare a state of emergency.
Thingy IOT and researchers from DEOHS (Department of Environmental and Occupational Health Sciences) and PNASH (Pacific Northwest Agricultural Safety and Health Center) investigate the combined health effects of wildfire smoke and heat on Washington's agricultural workforce and test strategies to protect workers and crops.
To this end, a LoRaWAN network was deployed with low-cost air quality sensors on local weather stations using The Things Stack Cloud.
The Things Stack Cloud is a secure and scalable LoRaWAN Network Server with 99,9% guaranteed uptime. In this implementation, the network is connected to the AWS, which allows the management and monitoring of devices directly on the AWS cloud.
By leveraging the existing weather station network, the new air quality monitors could give farmers access to timely and highly localized data on air pollution, temperature, humidity and other measures to protect workers and crops during heat and fire.
Today, more weather and air quality sensors are being deployed by Thingy IOT across the state, powered by The Things Stack.
Learn more about this LoRaWAN success story
Get your low-power long-range IoT network: Request a one-month free trial of The Things Stack