Get support on LoRaWAN® device design and manufacturing from Arrow Electronics and The Things Industries
The Things Industries and Arrow Electronics collaborate on LoRaWAN-enabled device solutions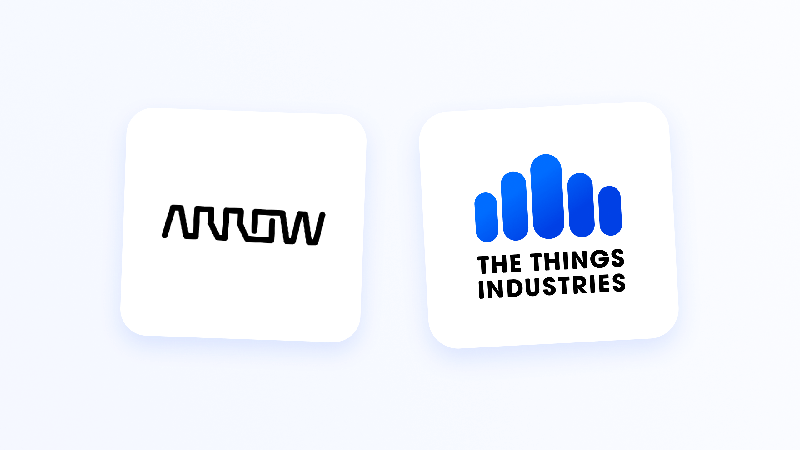 The Things Industries and Arrow Electronics collaborate on LoRaWAN-enabled device solutions. The combined offering will help companies reduce time-to-market for LoRaWAN-based products.
The Things Industries is a well-established LoRaWAN connectivity and services provider. With a global installed base of over 40.000 gateways, more than 170.000 users and 500+ enterprise customers, they hold a leading role in the global ecosystem.
Arrow Electronics is a hardware, software and service provider with design and sourcing expertise in the IoT space. We guide innovation forward for over 210,000 leading technology manufacturers and service providers. With 2022 sales of $37 billion, we develop technology solutions that improve business and daily life.
Having huge experience with IoT projects around the globe, Arrow and The Things Industries offer:
Components and technologies supplied by market leaders For companies who produce LoRaWAN devices or only have plans to start production Arrow offers best-in-class components & technologies supply service which helps customers to manufacture the best product on time and within budget.
Hardware and software design services for LoRaWAN devices For companies who just started their way to LoRaWAN-enabling services as well as for experienced IoT-device manufacturers Arrow offers design services that help to improve device time-to-market.
Product manufacturing support Having extensive experience with worldwide electronics production, Arrow can advise optimal CEM service depending on the customer's requirement.
Market positioning support Ensure proper implementation of the LoRaWAN specifications, best practices and ease of configuration with The Things Stack, promote your device to the network of 170.000+ developers.
Interested in any of these services? Submit your request via the link below.