Introducing the Firmware Update Over The Air (FUOTA) Feature for LoRaWAN® devices using The Things Stack
Learn how the FUOTA makes updates for LoRaWAN devices easier, the requirements required for the FUOTA update, its main users and the benefits of FUOTA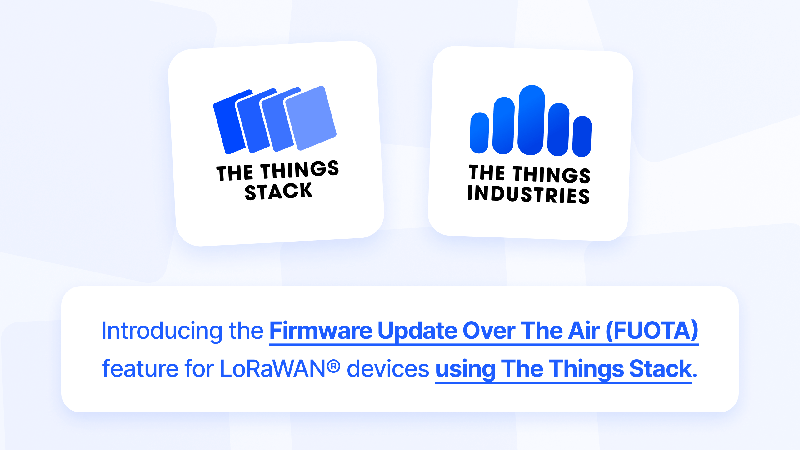 Many devices are connected by LoRaWAN® supporting various applications. These devices are deployed in many inaccessible or remote locations. For these devices to be updated with different features, The Things Industries introduces the Firm Update Over The Air (FUOTA) feature for LoRaWAN connected devices where it enables the updates of multiple connected devices remotely and helps in reducing maintenance overhead.
Using The Things Stack Firm Update Over The Air (FUOTA) feature, companies can remotely update their firmware of multiple devices over LoRaWAN. Firmware updates involve remotely updating the code on an embedded device. The update is then delivered wirelessly over the air and then sent directly to the device, without the need to tinker with the underlying hardware. Firmware updates are essential for large scale deployment of connected devices. The security patches protect customers and business data, and also new functionality, optimization and specialization extend the lifetime of the devices.
The LoRaWAN FUOTA process can be split into two parts:
The FUOTA server is responsible for fragmenting the firmware and transmitting it to multiple end devices.

The FUOTA device application is responsible for the assembly of the firmware fragments and updating the end device firmware.
The basic requirements for the FUOTA update are addressed from the server side (FUOTA server) and the other from the device side (Update client):
From the server side, the basic requirements are Class C downlinks support, multicast device creation support, application server supporting MQTT or HTTP web hooks and LoRaWAN multicast and fragmentation specifications server side support.

From the device side, the basic requirements are secure bootloader, Class C context switch support, real time clock support, LoRaWAN multicast and fragmentation specification support and persistent memory control APIs to maintain received fragments.
Watch The Things Industries' Firmware Developer Ahmed Elsalahy's detailed guide to LoRaWAN FUOTA and the setup process using The Things Stack:
https://youtu.be/UIF5cOpLZxE
The main users who benefit from the FUOTA feature are:
Service Providers: They need it to offer a solution that can help manage the connected devices' firmware efficiently and securely with minimum impact on the network performance.

Device Manufacturers: For enabling software patches to the entire range of devices.
Firmware Update Over The Air benefits for LoRaWAN devices:
Standardizing communication
Maintaining security
Scaling deployments
Reducing maintenance overheads
Facilitating complex applications
Reducing time to market
Facilitating regulation compliance
Deploy Firmware Update Over the Air (FUOTA) with The Things Stack Cloud or explore this and other features of The Things Stack with Discovery Tier. Sign up now.
LoRaWAN® is a mark used under license from the LoRa Alliance®.