Implementing Structural Health Monitoring through LoRaWAN®
Move Solutions partners with The Things Industries
Engineers and architects design structures to withstand a wide variety of forces. However, no construction system can be built to be absolutely risk-free: every structure is inevitably subject to stress, deterioration and ageing. That's why Move Solutions and The Things Industries join forces to enable the digitization and control of structural works by allowing the integration of LoRaWAN data seamlessly into an existing Internet of Things network for structural monitoring.
The solution in practice: implementing LoRaWAN networks to prevent failures in civil and private structures.
LoRaWAN technology is designed to wirelessly connect sensors over long distances with low power consumption. Therefore, it is the perfect solution for real-time monitoring of structures such as bridges, viaducts, buildings, dams and construction sites.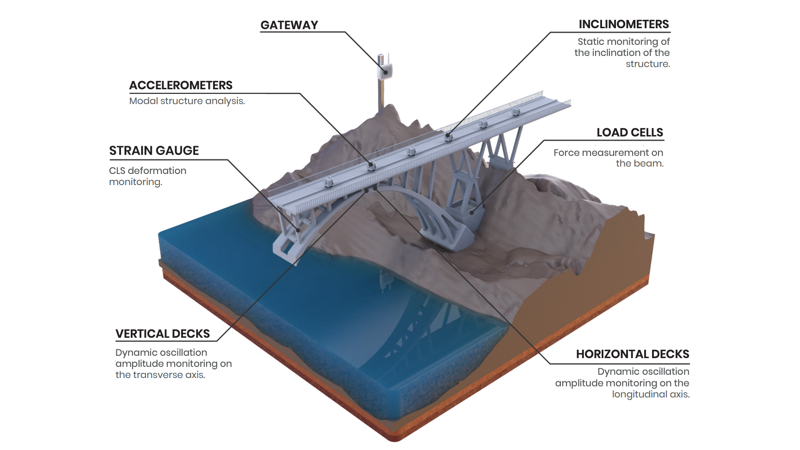 Structural monitoring of a bridge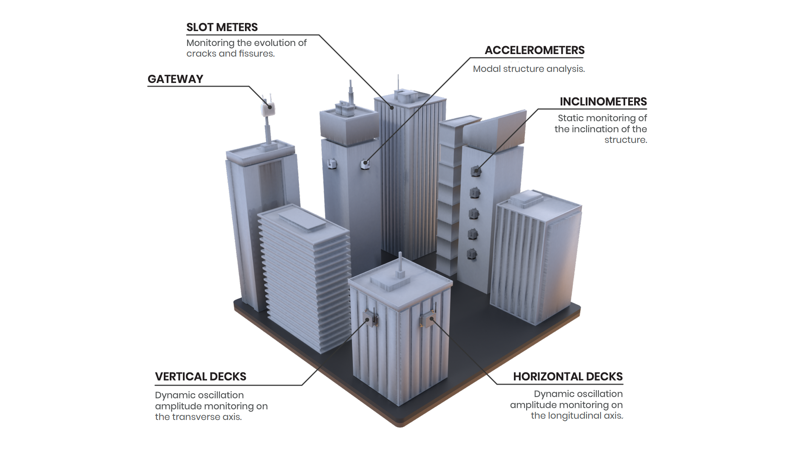 Structural monitoring of a building
Move Solutions implements LoRaWAN networks to measure certain structural parameters (dynamic displacement, static deformation, tilting, crack opening and closing, etc.). When an attention threshold is exceeded, the sensors transmit the data to LoRaWAN gateways which then forward them to The Things Industries network server (Move solutions devices and gateways). Therefore, the network is flexible and easily reconfigurable by adding sensors and gateways to the solution.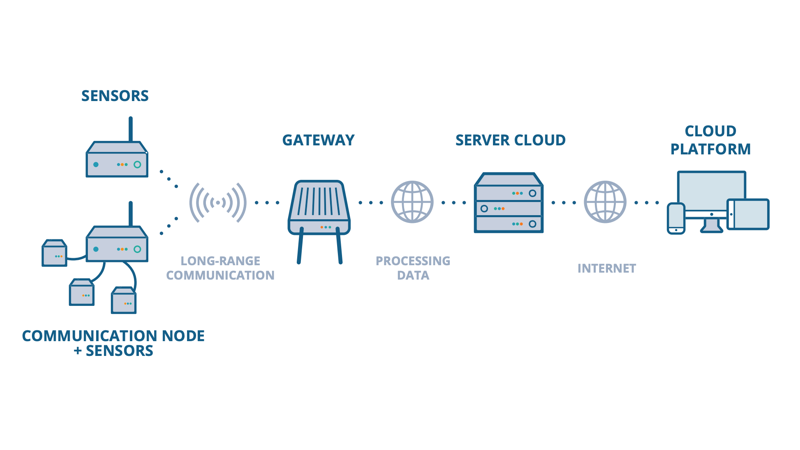 Composition of LoRaWAN networks
"We are pleased to have found in Move Solutions the ideal partner to facilitate and enable the use of LoRaWAN for the health of civil and private structures in a seamless, secure and flexible way," says Wienke Giezeman, CEO and Co-founder of The Things Industries.
"The Things Industries is one of the most important companies in the LoRaWAN world, one of the pioneers of this technology. Being a partner of The Things Industries for the world of structure monitoring is incredible. We are able to provide customers with a fantastic LoRa Network Server service, creating a strong, secure, and scalable communication structure for the world of monitoring. We are incredibly happy to start this new adventure together," says Ferdinando Frediani, COO and co-founder of Move Solutions.
Learn more about Move Solutions