Environmental monitoring solutions with LoRaWAN®
Dickson leverages LoRaWAN to manage compliance and protect high-value assets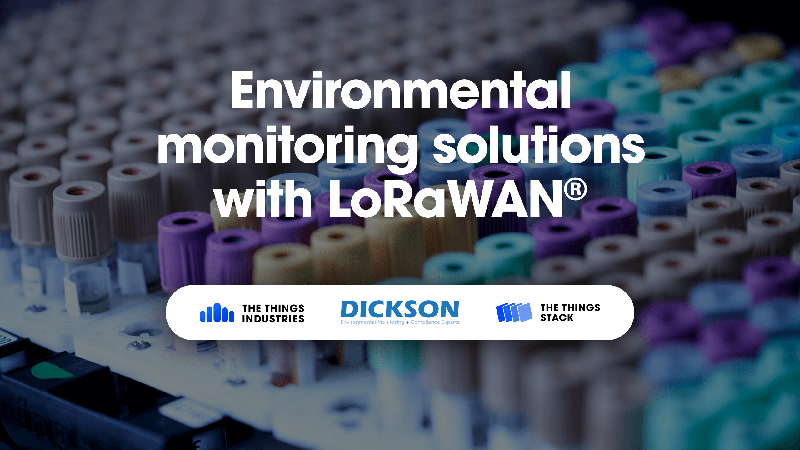 Monitoring environmental conditions can be challenging due to the need for continuous, reliable data transmission, which may not be efficiently addressed by conventional wireless technologies. LoRaWAN addresses the pain points in healthcare, pharma, cold chain, and third-party logistics environmental monitoring solutions by providing long-range, low-power, and cost-effective communication for real-time data collection. Such solutions enable remote monitoring, ensuring compliance with regulations, and enhancing supply chain visibility and efficiency.
Dickson is a global leader in compliance and environmental monitoring solutions, providing their own-developed equipment and software. They solve the challenges of efficient and comprehensive monitoring of environmental conditions for healthcare, pharmaceuticals, medical devices and logistics. By leveraging the LoRaWAN technology, Dickson tackles the pain points of traditional monitoring systems that were limited in scope. LoRaWAN serves as the backbone, seamlessly linking on-site temperature, humidity, and C02 monitors to collect large volumes of data, reaching billions of data points. Dickson's online cloud platform DicksonOne solves the administrative challenges in a single dashboard that streamlines data collection and management across their facilities.
Dickson's environmental monitoring solution efficiently addresses the complex and critical issue of cold chain management in the pharmaceutical industry. With the integration of The Things Stack Cloud, Dickson's LoRaWAN-based solution offers an automated cold chain protocol that monitors and maintains the temperature and humidity conditions of pharmaceutical products during storage. This automated system ensures that the integrity of temperature-sensitive medications and vaccines is upheld throughout the supply chain, reducing the risk of spoilage, wastage, and compromised efficacy. By doing so, Dickson saves pharmaceutical companies hundreds of man-hours that would otherwise be spent manually monitoring and documenting temperature fluctuations, allowing their clients to focus on delivering safe and potent medications to patients while adhering to stringent regulatory requirements.
At the core of Dickson's LoRaWAN infrastructure is The Things Stack Cloud network server. The platform's seamless integration and user-friendly interface enabled Dickson to quickly establish a robust LoRa server, expediting their time-to-market and enhancing operational efficiency. Uptime on The Things Stack Cloud ensures that Dickson's environmental monitoring solution consistently delivers accurate and timely data.
"As we scaled our operations, The Things Stack Cloud's outstanding support and technical resources provided Dickson with the assistance and guidance needed to meet the growing demands of our clientele effectively," said Matt McNamara, VP of Product at Dickson.
LoRaWAN technology, far from being a competitor to other connectivity options, complements and enriches the overall connectivity landscape. For Dickson's customers, the combined utilization of LoRaWAN, alongside other connectivity solutions, has proven to be an exceptionally potent strategy. This approach ensures a versatile approach to meeting diverse needs.
To implement their solution, Dickson uses their own environmental monitors: Cobalt X, DWE and Emerald data loggers, TWP touchscreen, and Dickson's Battery Operated Data Logger (RFL). The connectivity is provided through custom RAKwireless indoor gateways.
Build a reliable LoRaWAN solution with The Things Stack network server. Learn more