Digitalizing Agriculture with LoRaWAN®
When growing plants, often minimal changes in soil conditions have a massive impact on the quality of the crop. Depending on the soil type, it can store and absorb more or less water. If the water is distributed to the plants poorly, it will affect their growth and health. Especially while larger areas are irrigated evenly, some areas may be too wet or too dry.
In addition, the exact data of various plant types, soil types and other individual parameters are difficult to record and analyze in retrospect so that production can be optimized. Even if sensor technology is used here, it usually has to be read out manually or has very short battery life, making long-term studies a difficult undertaking. Especially when field trials are distributed around the world and conducted by a wide variety of people in very different locations, the necessary consistency in data sets is often lacking. Collecting data also leads to new insights in terms of pest control and other insights that can only be gained when different parameters can be collected and compared across numerous field trials and also over longer periods of time.
Famine and food security are challenges of our time that can be addressed using IoT technology for agricultural crops. IoT technology and especially LoRaWAN® to make the internet of things tangible and useful.
Syngenta recognized these issues and worked with Valenco, Cital's parent company, on a development project to find a robust and scalable solution. The result is Cital's LoRaWAN®-enabled Soil Sensor. Such IoT devices enable automatic monitoring of crops, providing valuable data that was previously collected manually, as well as control of systems and equipment throughout the farm.
Technology
Valenco's Swiss Made IoT sensor measures soil moisture and soil temperature when growing their agricultural products in various fields around the world. With LoRaWAN® technology, whose long-range, low-power wireless sensors can send data from the field to the cloud over private or public networks, farmers have easy access to a wealth of information that they can use to improve their operations. The hardware, in conjunction with the transmission protocol, ensures that the sensors can provide several years of battery life, making them excellent for use in infrequently visited, or hard-to-reach locations. If no signal is available at the customer's site, either the network coverage is provided or sensors are delivered in the so-called logger mode. This means all the necessary data is recorded over a certain period of time and sent automatically to the cloud afterwards. Unlike other products, we are talking about a period of more than one year during which logging is possible.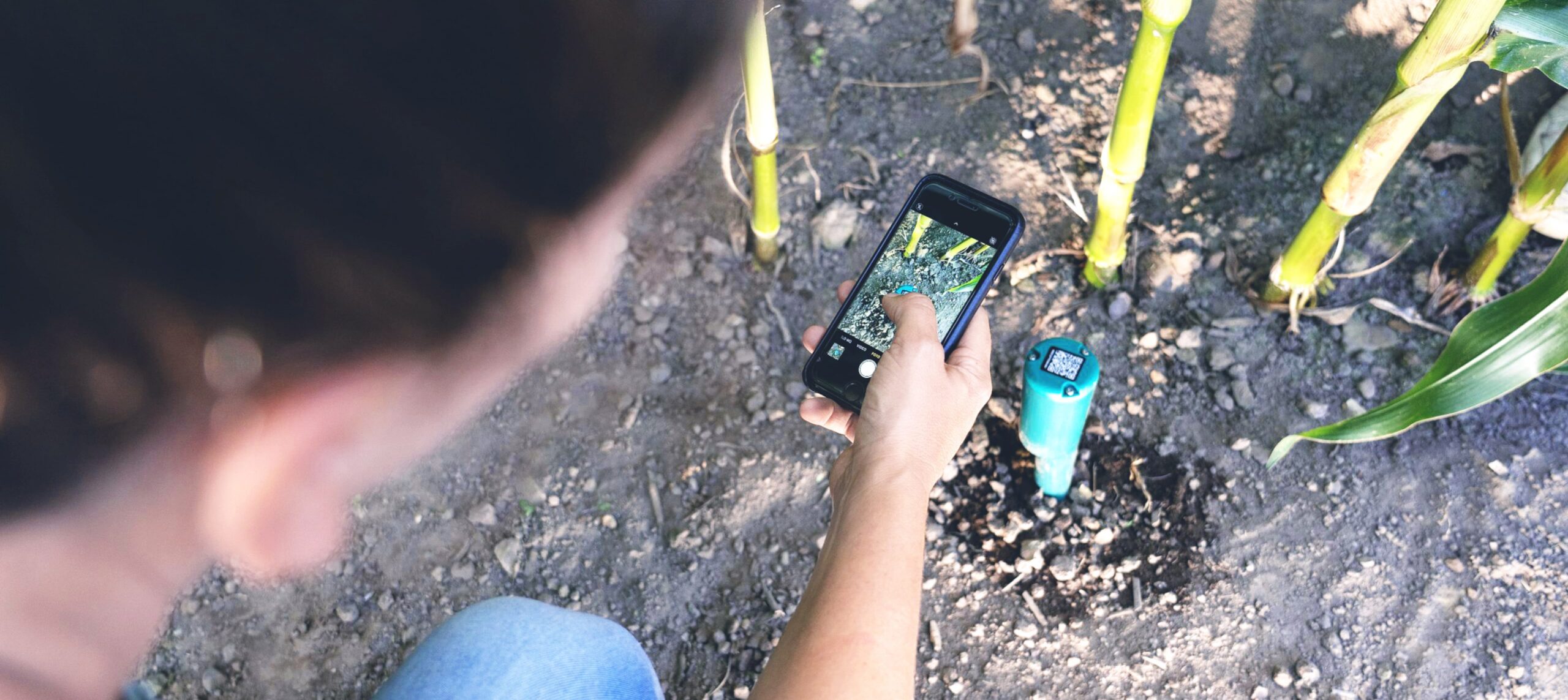 The Soil Sensor can be easily installed and put into operation within minutes. With the renowned watermark sensor installed to record water potential, the plant's available water is measured. This ensures that the actual plant stress on water can be replicated and, with a close-meshed distribution in the field, harsh conditions can be addressed locally. Trends can be monitored virtually from the office on a dashboard, allowing timely action to be taken. Likewise, data from the customer is collected long-term via API and analyzed in big data pools to gain insights into which influencing factors have an impact on a successful harvest.
The soil sensor is not only directly useful in agriculture, but can also be used in green spaces, parks, or fruit growing to provide optimum care for plants and detect problems in good time. Every modern business depends heavily on the ability to manage resources efficiently to reduce environmental impact, minimize costs, and maximize yields.
The solution runs on The Things Stack Cloud, a robust LoRaWAN Network Server, which allows the use of all clusters and enables to easily manage the fleet of 1300 devices. The easy setup allows it to provide IoT-Fleet Management on a big scale, even for startups like Cital.
Benefits
Cost savings through reduced use of water, fertilizers, pesticides, and supplies
Reduce crop losses due to disease infestation or adverse weather conditions
Develop understanding of the factors that determine crop growth and yields
Ensure food safety
Higher crop yields
Less labor time required
Fewer manual rounds and transportation costs
Choose The Things Stack deployment that fits your project scale. See deployment options