Arrow Electronics and The Things Industries collaborate on LoRaWAN® device design, manufacturing and security provisioning using Generic Node
Arrow will present at The Things Conference in Amsterdam, 22-23 September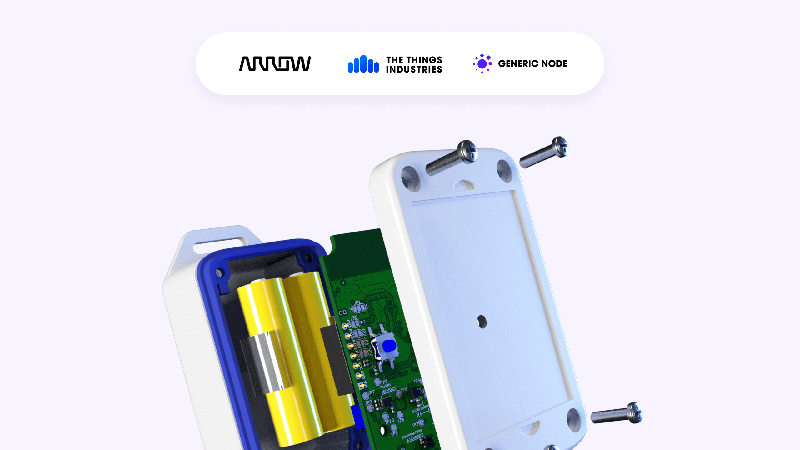 Arrow Electronics has announced a collaboration with The Things Industries, a LoRaWAN solutions provider, under which the two organisations will provide LoRaWAN-enabled device design solutions. The combined offering will help companies reduce time-to-market for LoRaWAN-based products.
The Things Industries has developed Generic Node, a LoRaWAN device coupled with a reference design that is optimized for low cost IoT operations and easy integration into the cloud. Arrow is a hardware and software provider with design and sourcing expertise in the IoT space. Arrow's Engineering Service Center (ESC) supports companies who are building products using the LoRaWAN protocol, providing advice and recommendations. The support is tailored to match the level of experience and resources that exist within the customer's own team.
Generic Node is a LoRaWAN-enabled device with a boilerplate design that requires zero hardware and firmware development. It allows developers to focus on the features of their own device without spending time redoing the basics of LoRaWAN device-making. Its customizable hardware design allows Generic Node to be configured to meet any specific need. Motion, freefall, temperature, humidity and orientation sensors are available on board.
Wienke Giezeman, CEO, The Things Industries, said: "The combination of our reference solution with Arrow's IoT hardware and software expertise can deliver substantial savings to customers in terms of upfront development and ongoing IoT operations costs, as well as significantly reducing time-to-market."
Jamie Davey, associate vice president, design services, Arrow Electronics, commented: "By working with The Things Industries and Arrow, customers can get their LoRaWAN-enabled product development started and completed more quickly and efficiently. Arrow is here to provide the level of support required, covering design, development, and manufacturing, through to secure provisioning for the cloud."