3 ways LoRaWAN® saved the world this year
How LoRaWAN technology helps meeting ESG goals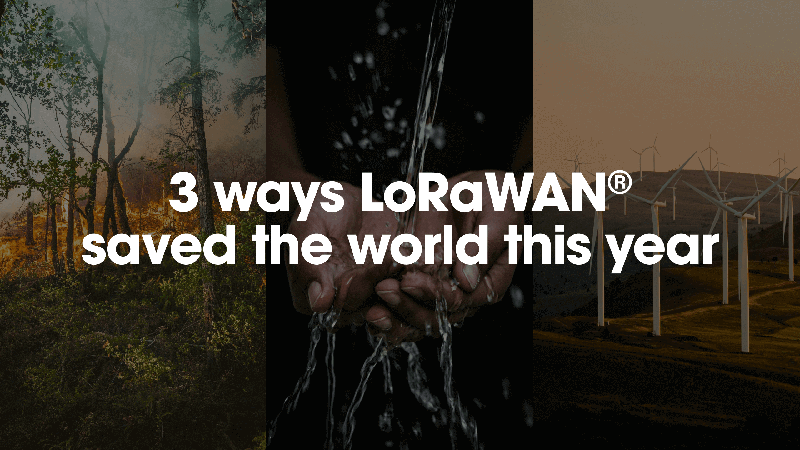 Long-term sustainability, ethical behavior, and transparency are essential parts of any successful company in the industry. LoRaWAN and Internet of Things technology can be a great asset to achieve it. LoRaWAN is designed for low-power and low-bandwidth use. This provides businesses with a secure, reliable, and low-cost way to create solutions related to energy consumption, water management, and emissions.
We saw a lot of ways LoRaWAN helped companies across different industries optimize their operations. Now, LoRaWAN is playing a crucial role in sustainability initiatives. Here are the 3 highlights of how LoRaWAN helped to save the world this year:
1. Clean Water and Sanitation: Millions of liters of water saved
LoRaWAN-enabled solutions for water monitoring and usage optimization helped to save millions of liters of water from being wasted. The long-range and low-power capabilities of LoRaWAN technology make it well-suited for use in remote or hard-to-reach areas where water leaks may be difficult to detect.
2. Climate Action: Saving forests from wildfires
Devices operating on LoRaWAN are able to analyze the air quality and detect the start of wildfires before the fire erupts. The sensors can be used to monitor a variety of factors that can indicate the presence of a potential forest fire, such as air temperature, humidity, and the presence of smoke. The data collected by these sensors can then be used to trigger alarms or other alerts to alert authorities of the potential fire, allowing them to take appropriate action to prevent the fire from spreading.
Dryad's LoRaWAN-enabled sensor for ultra-early wildfire detection prevents 1.7bn CO2 emissions.
LoRaWAN sensors are 70-80% more efficient in preventing forest fires, and at least 3 times faster than any other detection methods, according to Forest Guard.
3. Affordable and Clean Energy: Reducing energy consumption
LoRaWAN, compared to other wireless communication protocols, is a more sustainable solution when it comes to energy consumption. LoRaWAN uses a lower data rate and a more efficient air interface, which allows devices to operate for longer periods of time on a single battery charge. Additionally, LoRaWAN devices can be configured to enter sleep mode when not in use, further reducing their energy consumption.
Lucy Zodion's smart street lighting solutions help cities to save energy and participate in such sustainability initiatives as Earth Hour and more.
With the LoRaWAN network and sensors, Deutsche Bahn optimizes energy usage in trains across Germany.
In office buildings, sensors are used to measure the occupancy of rooms and provide real-time information to employees on available workspaces. This helps to optimize the use of office space and reduce energy consumption.
Of course, technology alone cannot save the world, but it can be used to optimize the world by reducing resource consumption and improving efficiency. LoRaWAN technology is designed to be energy-efficient and can help reduce resource consumption in various applications, such as the ones described in this article.
Would you like to create a sustainable solution on the LoRaWAN network? Contact us to discuss your idea